Okay, so many of you have now sent off your sweet kiddos to school, and as excited as you are to see them and talk about their day, they come home as little zombie monsters. They are tired and hungry people in need of an intercession. Let's deal with their need in a creative mom way. Here are several after school snacks that you can put in your artillery to soothe their stomachs and sweet learning hearts. Also, if you have kids at home, these are great treats that you and your people can make together. HLLF – Melissa
Frozen Cupcakes 
These cupcakes were hands down my favorite after school snack when I was in elementary school, especially on those early fall days where you would head out in the morning with a sweatshirt on and walk home a sweaty mess. This frozen treat is a fun thing to do with your littles who are still at home. Grab some fun cupcake wrappers and enjoy! Click here to find this recipe on our feed!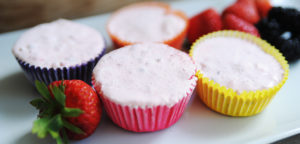 Monkey Treats 
If you have a banana and chocolate lover in the house, they will love these! Slice a banana into medium-sized pieces and lay on a parchment-covered baking sheet. Add a small amount of peanut butter to every slice and then top with another banana slice to make a little sandwich. Place the tray in the freezer. While you are letting the bananas freeze, melt chocolate chips. When the bananas are chilled, dip each one into the chocolate. Return them to the tray and place back in the freezer. If you stick a toothpick in them, they are that much easier to eat!
After School Snack Tray
This is my kids' favorite thing I serve up. It's all of their favorite snacks (or whatever items I have in my pantry) served up on a tray. They think it's super fancy and I think it's super easy!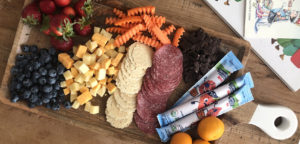 Apple Pizzas
Slice an apple to make thin circles and top with peanut butter, chocolate chips, granola, coconut, caramel drizzle… whatever toppings you want!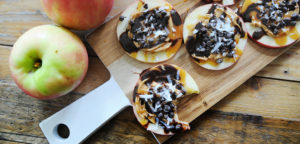 Energy Bites 
There are several recipes out there for these, but my favorite is this six-ingredient combo.  2/3 cup creamy peanut butter, 1/2 cup semi-sweet chocolate chips (I use mini-sized), 1 cup old fashioned oats, 1/2 cup ground flax seeds, 1 tsp vanilla, and 2 tablespoons honey. Combine all ingredients in a medium bowl and stir to combine. Place in the refrigerator for 15-30 minutes to make them easier to roll. Roll into 12 bites. (You can store them in the fridge for up to a week, but I'm guessing they won't make it that long!)
Microwave S'mores
It is super fun to watch a marshmallow in the microwave blow up to an exploding point and then deflate when you take it out! Grab the regular S'more stuff, and on a paper plate place your graham cracker, chocolate square, and marshmallow and stick in the microwave. Let you kiddos watch the magic and take it out before it all topples over! (And, before your kids come home, make one for yourself!  Except, use white chocolate and blackberries, call yourself Martha Stewart and shout at the Food Network, "Beat that Bobby Flay!" ) 🙂 
Donut and Fruit Kabobs
Anything on a stick is just that much better! Grab some donut holes, large berries such as strawberries, blackberries or grapes and just assemble as you would any meat or veggie kabob.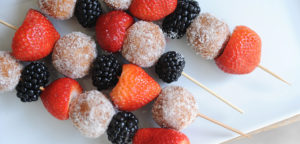 Popcorn and Apples
When I was growing up, we would sometimes have popcorn and apples for supper on a Sunday night. It still brings back sweet memories for me, and it's always a kiddo favorite! (Not to mention EASY!)
Cheesy Roll-Ups
My kids love anything in a tortilla shell, so I always keep some handy in my fridge. Add cheddar cheese and a slice of ham or try mozzarella cheese, tomato sauce and pepperoni. Then place in the microwave for 30 seconds or until the cheese is melted and roll it up.   
Enjoy snack time with your kids!  HLLF – Melissa