Brown Sugar Bacon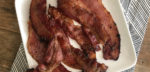 I am not a bacon lover. I can take it or leave it. BUT, you guys, this brown sugar bacon is a breakfast wonder, BLT maker, and possibly life changer! (Okay, that last one is a bit far.) But, this is by far my favorite way to cook bacon. Not only does it taste a bazillion times better than regular bacon, but when you bake it in the oven, there is no leftover greasy kitchen smell or mess to clean up. You just throw the ...
Mexican Corn Salad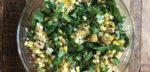 This is my son's very favorite side dish during the summer.  There are a lot of ways to make Mexican Corn Salad, but the version I like to make leaves out the creaminess of mayo or sour cream and just goes for the fresh summer ingredients.  I could eat this alone with chips or well... simply by itself.  It's hard not to keep going back for one last spoonful.  We like spice, so I add more cayenne pepper, red pepper flakes, jalapeno, and salt until ...
Strawberry Rhubarb Crisp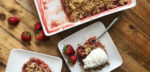 When the spring farmers' market hits, it's hard for me to pass on the beautiful red and green rhubarb stems at almost every booth. Left alone, rhubarb is super tart, but when you add strawberries and a little sugar, you have a dessert that you just can't stop eating!  This easy to make recipe creates a perfect ending to any summer day.  Enjoy! Strawberry Rhubarb Crisp 4 cups fresh rhubarb, cut into 1 Inch diced pieces 4 cups fresh strawberries, cut into halves 1 cups ...
This error message is only visible to WordPress admins
There has been a problem with your Instagram Feed.