Spicy Chicken Burgers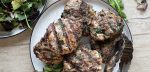 Okay, chicken burgers… meh. Grilled chicken burgers with jalapeno, cilantro, pepper jack cheese, and spices… all day long! This recipe has become a weekly staple for us this grilling season. Everyone in my family loves them, and they are a great healthy alternative to the regular greasy cheeseburger. I've had to double my original recipe because everyone in my house wants more than one. And, don't let the seasoning fool you. This burger actually isn't that spicy. It's just what the bland white meat needs ...
Brown Sugar Bacon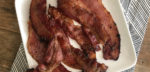 I am not a bacon lover. I can take it or leave it. BUT, you guys, this brown sugar bacon is a breakfast wonder, BLT maker, and possibly life changer! (Okay, that last one is a bit far.) But, this is by far my favorite way to cook bacon. Not only does it taste a bazillion times better than regular bacon, but when you bake it in the oven, there is no leftover greasy kitchen smell or mess to clean up. You just throw the ...
Mexican Corn Salad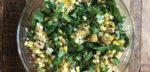 This is my son's very favorite side dish during the summer.  There are a lot of ways to make Mexican Corn Salad, but the version I like to make leaves out the creaminess of mayo or sour cream and just goes for the fresh summer ingredients.  I could eat this alone with chips or well... simply by itself.  It's hard not to keep going back for one last spoonful.  We like spice, so I add more cayenne pepper, red pepper flakes, jalapeno, and salt until ...
This error message is only visible to WordPress admins
There has been a problem with your Instagram Feed.