My people go through salsa by the gallons.  The fresh homemade kinds are their favorite.  As soon as I get it chopped up, it gets gulped down along with a bag of tortilla chips.  This is one of my go-to salsa recipes that shakes up our routine a bit by only using peppers.  No tomatoes!  If you use a variety of colored peppers, it's not only yummy but a beautiful appetizer for any get together.  You can increase the heat by adding more jalapeños or cayenne pepper.  After you are done spooning it up with chips, use the rest of it for breakfast on scrambled eggs or quesadillas.  It's great on almost anything!
Ingredients
4 bells peppers, preferably in green, yellow, orange, and red
1 jalapeño pepper
1 14oz can of black beans drained and rinsed
1 small red onion 
1 bunch cilantro
3 limes
1 teaspoon cayenne pepper
1 teaspoon cumin
1/3 cup olive oil
3 tablespoons honey
Salt and Pepper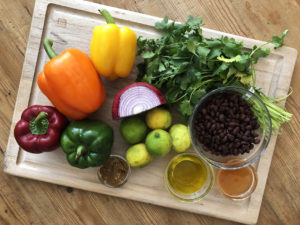 Chop peppers, jalapeños, onions and cilantro, and place into a large bowl. The recipe makes 3-4 cups, so there is a lot of chopping to be done. Food prep is my undoing.  I would rather fold white socks than chop onions and peppers.  My sweet friend Becca gave me this chopper, and it has added hours back to my life!  Buy one. You can buy a similar one here.  Then buy one for your momma, your sister, and your best friend.  You have ultimately bought them the gift of time, and they will think you are amazing.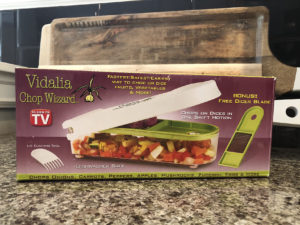 After you have finished chopping, add the black beans and mix.  Then add lime juice, cayenne pepper, cumin, olive oil, and honey and mix well.  Add salt and pepper to taste and refrigerate for at least an hour to allow flavors to mesh.  Serve with chips or use on tacos or chicken.  Enjoy!