Are you ready for the talk?
So all you mommas out there with elementary school-age children immediately went to "the birds and the bees" when I asked that question!  Oh, man… I'm not ready to write anything about that yet!  But those conversations with kids which have important and emotional ties sure are hard, aren't they? 
I think that when we know tough conversations are about ready to go down we try to prepare for them intellectually and then they never quite go as planned do they?  I mean when my three kiddos have asked, "How did I get out of your belly?" I clung to the sweet truth that they were cut out of my stomach and showed them the scar. #truth.  One great thing about having three c-sections!
Someday though that comfortable answer won't be enough, and it shouldn't be enough. 
Easter is just around the corner,  and when kids get a chance to think about Easter coming they often have a lot of great, but difficult, questions.  Just the question alone of "Why did Jesus have to die on the cross?" can make us start searching for a comfortable answer for their tender hearts. The first time I talked about Jesus dying on the cross to my middle child he ended up bawling on the carpet….  Not necessarily a parent-child conversation win. 
We can all fumble around with hard answers to great questions.  If you are reading this and find it difficult to talk about spiritual things with your kids, you are not alone.  That is why I wrote this post.  I would love to share with you four of my favorite resources that share sweet truth about why Jesus had to die on the cross and the amazing truth of what His resurrection means to all of us.  I hope that you find them helpful and encouraging as you share the crucial conversations about the Easter story with the littles in your life!
Resurrection Eggs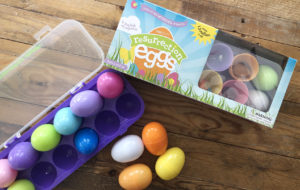 When my oldest was four, my mom gave these eggs to our family and we have used them every year since. The Resurrection Eggs offer kiddos an excellent hands-on way to learn about Jesus' Death and Resurrection. There are 12 brightly colored plastic eggs which you can crack open to reveal miniature symbols of the Easter story.  There is also a booklet which you will want to read along as they open the eggs to help explain the significance of each object.  It is a perfect way to create discussion and answer questions about Easter and the Resurrection with your kids.  It has become a family tradition, and I bet it will become one for you too!  And, you might learn some new info yourself!
https://www.amazon.com/Resurrection-Eggs-12-Piece-Religious-Figurines/dp/1602006512/ref=sr_1_1?crid=1DJDW0QEDDVVJ&keywords=resurrection+eggs&qid=1551839803&s=gateway&sprefix=resurr%2Caps%2C183&sr=8-1
The Garden, the Curtain, and the Cross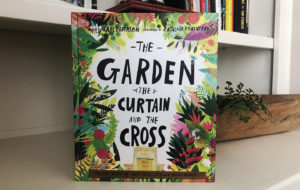 This was a new addition to my library this year, and we quickly claimed it as a favorite. The book is beautifully illustrated and retells the Easter story by taking kids on a journey from the garden of Eden through Jesus' victory on the cross.  
https://www.amazon.com/Garden-Curtain-Cross-Carl-Laferton/dp/1784980129/ref=sr_1_1?crid=3089H3S3IYXCL&keywords=the+garden+the+curtain+and+the+cross&qid=1551840259&s=gateway&sprefix=the+garden+t%2Caps%2C159&sr=8-1
This is The Gospel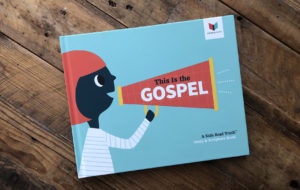 I read this book to my kids all year long because I want them to hear the good news of the gospel over and over. This book lays out the story of God's perfect love for us.  It starts with God's creation of the world, to Adam and Eve's sin, Jesus's life, death and the best news of all, HIS resurrection.  This book was written for ages 4–9, but we all enjoy it!
https://www.shopshereadstruth.com/products/this-is-the-gospel-a-story-scripture-book-kids-read-truth?variant=12196118331454
The Jesus Storybook Bible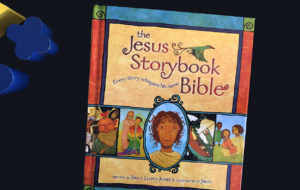 Friends, this is my favorite and an absolute must for your kids' bookshelf!  We have three copies of it in our home, and they have precious worn out bindings because we have read them over and over.  The Storybook Bible paints a powerful picture of God's epic love for each one of us starting in the garden of Eden and ending in the New Testament. Every story in this bible points to the "great rescue," which is the fact that Jesus came to die on a cross to rescue us from our sins and live forever with Him.  The Easter Story in this Bible is powerful for our kiddos and does such a great job of explaining why Jesus had to die on the cross and the best truth of all… Jesus beat death and is now alive again!
https://www.amazon.com/Jesus-Storybook-Bible-Every-Whispers/dp/0310708257/ref=sr_1_1crid=13NSWA3P9HA1M&keywords=the+childrens+storybook+bible&qid=1551840931&s=gateway&sprefix=the+childrens+storybook+%2Caps%2C156&sr=8-1