Lavosh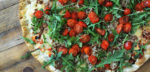 You say Lovosh, I say Lavosh... it doesn't matter because they are both correct! Lavosh is a simple, thin, crunchy Middle Eastern style bread usually made with wheat flour, water, and salt. It's a pretty simple recipe to make and you can find a recipe here to make it at home.  I prefer just to keep it easy and buy the actual lavosh cracker in a package of three at my local grocer. They are about the size of a large pizza and are awesome to serve up with ...
The Best Peanut Brittle In the Universe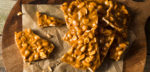 This is my grandmother's recipe that she learned during a class all about her new microwave in the 1970's.  I hope you love it as much as we do!  HLLF, Kirstin The Best Peanut Brittle In the Universe In 1 ½ qt. Measuring cup mix together: 1 cup sugar and ½ cup white Karo syrup. Microwave on high 4 minutes. Stir in 1 cup dry roasted, salted peanuts.  Microwave on high 3 minutes Add and stir in: 1 teaspoon softened butter and 1 teaspoon vanilla. ...
Chicken Tortilla Soup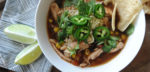 This is a Saturday soup favorite in our home and my favorite way to use leftover Thanksgiving turkey! The day after the heavy traditional turkey dinner, I crave spice and this hits the spot. I throw it together in the crockpot Friday morning and it's ready whenever our football watchers and black Friday shoppers decide they are hungry for lunch. I love this soup with all the toppings, so grab your favorites to dress it up as desired. Serve it with chips and salsa, sandwiches, ...