The Best Peanut Brittle In the Universe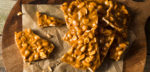 This is my grandmother's recipe that she learned during a class all about her new microwave in the 1970's.  I hope you love it as much as we do!  HLLF, Kirstin
The Best Peanut Brittle In the Universe
In 1 ½ qt. Measuring cup mix together: 1 cup sugar and ½ cup white Karo syrup.

Microwave on high 4 minutes.

Stir in 1 cup dry roasted, salted peanuts. 

Microwave on high 3 minutes

Add and stir in:

1 teaspoon softened butter and 1 teaspoon vanilla.

Microwave on high 75 seconds.

Add 1 teaspoon baking soda and stir until light and foamy.

Quickly pour onto lightly greased cookie sheet.

Use PAM even if the pan has a Teflon lining.

Spread as thin as you can with greased wooden spoons, pulling the brittle out to the sides of the pan. 

Let cool about 1 hour. 

Break into pieces

If too sticky, cook longer after adding peanuts.

Perfect peanut brittle is pale and but not sticky. 

If it tastes burnt, cook less. (Thanks Grams)
Chicken Tortilla Soup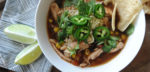 This is a Saturday soup favorite in our home and my favorite way to use leftover Thanksgiving turkey! The day after the heavy traditional turkey dinner, I crave spice and this hits the spot. I throw it together in the crockpot Friday morning and it's ready whenever our football watchers and black Friday shoppers decide they are hungry for lunch. I love this soup with all the toppings, so grab your favorites to dress it up as desired. Serve it with chips and salsa, sandwiches, and leftover pie for the perfect lunch to serve your holiday guests. HLLF- Melissa
Chicken Tortilla Soup
Ingredients 
1 pound cooked shredded chicken breasts or meat from one rotisserie chicken
1 can black beans
1 can corn
32 ounces chicken broth
16 ounces salsa (fresh or in a jar)
1 bay leaf
1 tbsp Chili Powder
1 tsp cumin
1 tsp oregano
1/2 tsp crushed red pepper flakes
1/4 tsp cayenne pepper
Salt and pepper to taste
Desired toppings such as... 
Jalapeños 
Shredded cheese
Sour cream 
Tortilla strips
Limes 
Cilantro
Directions
In a crockpot, add shredded chicken, black beans, corn, chicken broth, salsa, and spices. Stir and cover. Place on high for about an hour and then turn to low for an additional 2-4 hours. Ladle into bowls and top with desired toppings. Enjoy!
Caramel Apple Candy Dip
One thing I love about the changing of the seasons is the different recipes that follow suit.  Every year we tend to make the same things in the fall, sort of food traditions, that make the season that much better.  One of our fall favorites is Caramel Apple Dip! It's a great appetizer for a get-together or just a fun late day snack. In any case, I think you'll love it!  Maybe, it will even be a fall food tradition in your home.
CARAMEL APPLE CANDY DIP
8 ounces Whipped cream cheese 1 container (7 ounces) Kraft Marshmallow cream 1 container (16 ounces) caramel dip Candy bar toppings such as Recess Peanut Buttercup, snickers, or health bar. (I usually use 6-8 Recess Peanut Buttercups.) Apples
DIRECTIONS
In a medium-sized bowl with a hand mixer, beat the whipped cream cheese and marshmallow cream until smooth and set aside. Using a spatula, spread the Carmel sauce onto a serving plate or dish. I usually use an 8 x 12 deep rectangle serving plate. Using a clean spatula, dollop the whipped cream cheese and marshmallow cream mixture onto the caramel and gently smooth over the top, being careful not to mix into the caramel sauce. Choose your favorite candy bar and chop them into small pieces and sprinkle on top. My husband is a huge Reese's Peanut Buttercup fan, but snickers, toffee candy, or candied pecans are also perfect for this dish! Serve with sliced apples or ginger cookies such as Trader Joe's ginger crisps. Enjoy!